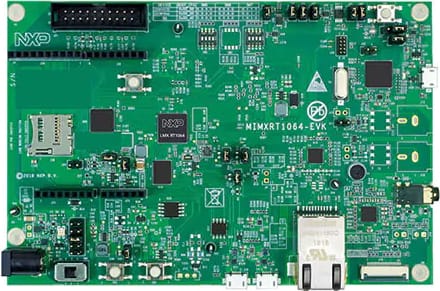 Core

Cortex-M7

Device

MIMXRT1064xxxxA
Overview
The i.MX RT1064 EVK is a 4-layer through-hole USB-powered PCB. At its heart lies the i.MX RT1064 crossover MCU, featuring NXP's advanced implementation of the Arm Cortex-M7 core. This core operates at speeds up to 600 MHz to provide high CPU performance and excellent real-time response.
Technical Reference
Get Started and User's Guide
Design Resources
Prepare the board for usage with Keil Studio Cloud
Before connecting your board to Keil Studio Cloud, you need to flash the latest firmware onto the integrated debug adapter that is connected to the Micro-USB connector J41.
Download the latest DAPLink firmware (OpenSDA v2.2) from the OpenSDA Serial and Debug Adapter page and follow the update instructions.
Alternatively, you can use a ULINKplus debug adapter and connect it to the 10-pin Arm Cortex connector (J34). This debug adapter is recognized by Keil Studio Cloud and can be used to flash and debug any development board.