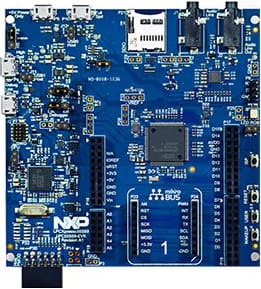 Core

Dual Cortex-M33

Debug probe

CMSIS-DAP

Device

LPC55S69
Overview
The LPCXpresso55S69 development board provides the ideal platform for evaluation of and development with the LPC55S6x MCU based on the Arm Cortex-M33 architecture. The board includes a high performance onboard debug probe, audio subsystem and accelerometer, with several options for adding off-the-shelf add-on boards for networking, sensors, displays, and other interfaces.
Board Features
Board Pinout
The pinout diagrams below show the expansion interface signals. Arduino UNO shields can be used on these connectors by aligning D15 on the shield and LPCXpresso55S69 board.
Technical Reference
Schematics
Data Sheets
Interface Firmware
Prepare the board for usage with Keil Studio Cloud
Before connecting your board to Keil Studio Cloud, you need to flash the latest firmware onto the integrated debug adapter that is connected to the Micro-USB connector P6.
Download the latest LPC-Link2 firmware page and follow the update instructions on the UPdating LPCXpresso firmware page.
Alternatively, you can use a ULINKplus debug adapter and connect it to the 10-pin Arm Cortex connector (P7). This debug adapter is recognized by Keil Studio Cloud and can be used to flash and debug any development board.