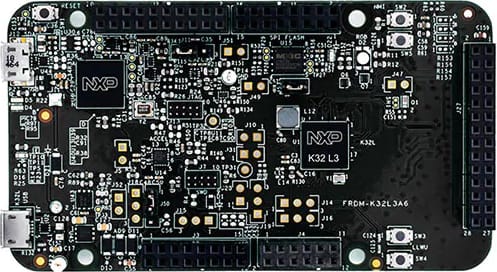 Core

Cortex-M4

Cortex-M0

Debug probe

CMSIS-DAP

Device

K32L3A60xxx
Overview
The FRDM-K32L3A6 development board consists of the K32L3A6 device with a 32-Mbit external serial flash, FXOS8700 accelerometer/magnetometer, visible light sensor, SDHC circuit, general purpose LEDs, and general purpose push buttons in the popular Freedom board form-factor.
Specifications
Technical Reference
Get Started and User's Guide
Design Resources
Prepare the board for usage with Keil Studio Cloud
The OpenSDA firmware is CMSIS-DAP v2.x compliant out-of-the-box and thus does not require any special handling. Just attach the board to your computer and Keil Studio Cloud detects it automatically.